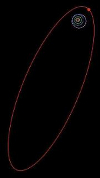 The forthcoming Aerronautic EP will be aired exclusively at the "Sedna Sessions" by our friend and supporter Up Digital.
The Radio Show, which was his last one, will lasted 8! hours, was celebrated by many artists like:
Eigenheimer (NL), Machinophile (F),  Unknownjp (JP), Graphplan (SRB), FuFo (A), Darius Lemure (F), Doss House (F), Born Again Analog (US/CA) and certainly Up Digital (UK) himself.