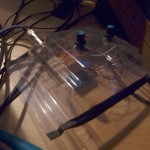 Actually this is the "easiest as it can get" DIY-synth. It's made of 1×555-timer-chip, 2x100k potentiometers, 1x1K Resistor, 1x1uF Capacitor, wire, 1xsmall stripboard, 1x9v-battery connector, 1×6,3mm audiojack and solder.
The body was made of some random plastic packing that gave the synth it's nickname "recynth".
More info and building instructions can be found here.